Hello everyone, today it's once again my pleasure to put the spotlight on another one of our team members. Today I get to pick the brain of ElvisDitto, who's been on the team for longer than most at this point!


ElvisDitto, can you quickly introduce yourself? Who is the man behind the 'Ditto and what is your role on the team?

Howdy! You can call me Chris. Thanks for reading my interview today. I'm a sprite artist, designer, and novice coder on SSF2. I'm a mega Pokémon fan, if the name doesn't make it obvious, aha!
Outside of Zero Insanity and Cleod9 himself, you're probably the member who's been on the team the longest. How does one stick around a team so long?
I couldn't honestly imagine life without it. Smash is one of my favorite series, so to be a part of one of the biggest celebrations of Smash as a franchise means the world to me. It hasn't even felt like 14 years when looking back. I think the secret is a combination of love for the project, love for your teammates and loyalty to an idea. I've been here so long, and every day we discover new things to reignite the passion. SSF2 is one of my rocks. No matter what's going on in the outside world, it's nice to know I can always sit down and work on it when I have a moment spare. It's nice.
As someone who's been around for so long, have you ever noticed any particular big leaps in SSF2 and its quality? Or the mindset of the team? What were some big turning points in the timeline and the team's attitude?
Beta was definitely a huge turning point, but I remember when we first started pushing for get up attacks. While nothing all that monumental, it was the first time it really felt like we were considering animations outside the obvious ones and focusing on quality of life mechanics.
Throughout the years, of course many attitudes have changed as the team changed. It's hard to pinpoint view points throughout development, but I can say it hasn't always been easy seeing eye to eye on what direction we should go in.


As an active member of our team, what are some of your hopes and dreams for SSF2 in the near and far future?
Now this is a tricky one to answer without giving too much away. To be completely honest with you though, I would love to see us continue polishing existing content before more is added. I'm sure everyone's familiar with how many updates have been put into stages and characters, and seeing how positively backflips have been received makes my heart sing.
Obviously I hope we can finish the remaining colour swap work before too long, as that's something both devs and fans alike have a blast with.
On top of that, I'd love the chance to go back to Rayman and give him some love and care in the near future.
Finally, there's the prospect of more functionality and engine related changes. Things such as an atmospheric stage sound layer, and global shadows cast by parts of the stage can go a long way.
It'd also be nice to take another look at Event Mode one day down the line and polish it up.
I'm sure we're all dying to know, but where does the username 'ElvisDitto' come from?
I'm glad you asked, I love sharing this story. Back in 2003, I was best friends with a guy named Izaac. Gee, I musta been 9 around that time. Now, we thought it'd be fun to make a character that represented our friendship, so we got to thinking, what would fill that role?
Well, Lilo & Stitch had come out the year prior and we were both obsessed with it, so we took Lilo's obsession with Elvis, and paired it with a Pokémon, my massive obsession. We scribbled a Ditto dressed up in a sparkly jacket, with sunnies and a pompadour.
Jump forward several years, I'm in highschool and finally have my own computer. Since a username was required for basically everything, (and, uh, still is) I had a think for a moment before remembering ElvisDitto. It's stuck with me online ever since.
Now outside of SSF2, you're also quite active in cosplay and related video projects (longtime followers may even remember ElvisDitto's appearance as Waluigi at SmashCon), can you tell us a bit about that?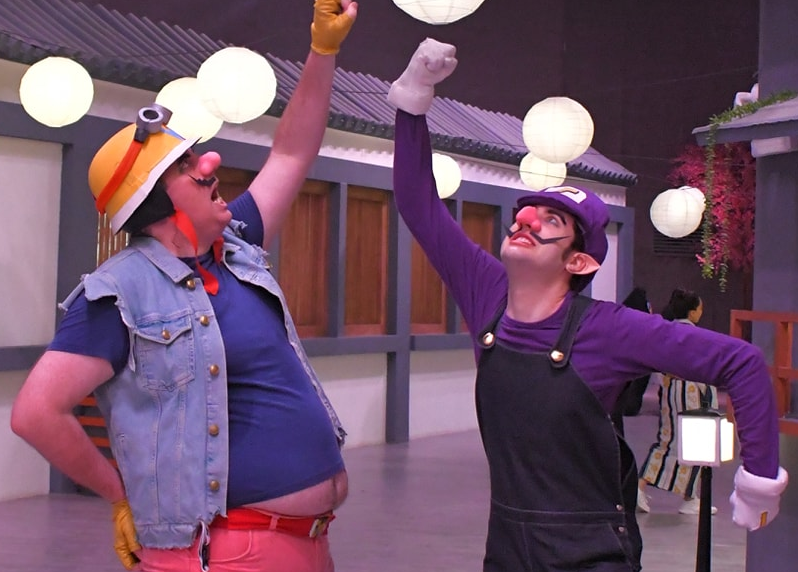 Cosplay is my other major way of expressing myself as a fan of various media. I got introduced to cosplay back in 2014 when my best friends and I visited our first convention, which was Animenia. My very first cosplay was Red from Pokémon. Since then I've been learning how to sew, and slowly growing my skills. As the years went on, I became aware of another cosplayer, TallJoke, who I found stood out from the crowd and seemed like the kind of guy I'd really want to be friends with. Turns out he felt the exact same after seeing some of my performances too!
So when I moved out of home, we met up, and have been best friends ever since.
As the years continued to pass, we entered a lot of competitions together and managed to take home a far few prizes, until we got to our proudest achievement.
In 2021, we decided to enter the prestigious 'World Cosplay Summit" prelims, which thanks to Covid, was held as a video competition. This was huge for us, as I was still doing my film degree and we'd wanted another chance to combine cosplay and film.
So we chose a series that could only really work in video format, the anime shitpost series, Pop Team Epic.
We ended up winning the prelims and represented Australia for that year. This was an enormous accomplishment for us.
Normally teams that represent a country would be flown to Japan to attend the finals, however, Covid had made that impossible. Not to worry though, as one year later, we were given an unexpected opportunity, and here's where things get interesting.
The Prince of Saudi Arabia (Yeah, I know, I would never have guessed either) has been looking to strengthen relationships with foreign countries for a while now, and has apparently been interested in performance arts. So he reached out to the organizers of the Cosplay Summit and offered to fly out teams from all over the world to compete there. As we were the first team from Australia to miss out on visiting Japan, we were offered the spot. Naturally it was quite a different experience to Japan, but an incredible one nonetheless.
We met with tons of teams that we had admired from years prior, and made some lifelong friends. It was incredible.
For anyone interested in our winning entry, you can view it here:

Next to cosplay, making videos is also your life's work, right? What sort of content do you and your friends also create? Where can people find you?
Just last year around July, I finished my film degree and have been trying my best to get numerous things in order so I can start working on films. Before my degree, and even during that time, I managed to create some independent projects. Some of the ones I am most proud of (though in hindsight, I could certainly improve on them) are my cosplay music videos, one of which I was fortunate enough to make at the 2018 Smash Con in Virginia!
We're currently working on a few scripts and hope to start production of our first proper videos in March. You can find the old stuff we've done at my YouTube, www.youtube.com/elvisditto
or you can subscribe early to our shared channel, https://www.youtube.com/@b_o_n_e_l_e_s_s

We've got a lot of ideas, some fan works, others original ideas. I hope you like what we produce in this coming year!
That's it for today's interview! Thanks for reading and if you're interested in following ElvisDitto's antics, be sure to also check out his twitter